Waffle material is more water-absorbent and thicker than suede material, but heavier in weight.
The waffle towel is very good. It feels very soft. It has strong cleaning function and waterproof and breathable effect. It does not shed hair, does not fade, and is easy to clean. It can be used by baby, and can be wrung dry without force. In fact, Waffle is characterized by this thin lattice, which is really soft and comfortable when used on the face. More importantly, it is easy to wring, thin and easy to dry, feel good and operate.
At present, a new process has come out on the market, which uses a pollution-free high-tech new textile material. Its component is a super fine fiber generated by the organic combination of polyester and nylon. Because it is a kind of material with strong water absorption, good air permeability, mildew resistance (it can also prevent bacteria and bacteria after special processing) and other significant functions, it is currently widely used in the international clothing, home textile products weaving. In a word, the quality of waffle towels is very positive. The quality of waffle towel is good. The new fiber towel interwoven with cotton yarn has the effect of deodorization and bacteriostasis. At the same time, it is light, rich, elastic and durable. It will be recommended after the trial period.
What are the benefits of wearing a towel while exercising?
When you exercise, you always sweat a lot. What is the use of a towel other than wiping your own sweat?
Whether you're training at home or going to the gym, intense workouts can cause your body to sweat a lot. If you don't erase it in time, it will affect your movement.
For example, it can get in your eyes and you have to pause your workout. It is best to bring a towel when exercising, and it is best to fully absorb the sweat.
Especially in the summer, if you exercise a little, you'll sweat a lot. Keeping a towel close to you or putting it around your neck works.
In order to wipe yourself, this is a great use of your own towel. Although the gym has regular cleaning every day, when there are too many people training, there are always some "marks" left by the unconscious trainer, and the exercise towel can be wiped away. Therefore, for the sake of our own health, as well as for the respect of other fitness enthusiasts, it is recommended that every member bring their own towel when entering the gym, so that they can always wipe the sweat stains left on the back of the equipment and other training equipment.
Towels leave a lot of sweat after exercise, so clean them as soon as possible after training to avoid bacteria breeding due to unsanitary conditions. It's the same habit as washing a glass immediately after drinking coke. The good habit of fitness is gradually accumulated from these small details.
How to choose a sports towel?
Light weight, perspiration, quick drying and portability are important
Do you really want to wipe your sweat off with a comfy towel after a workout at the gym? However, you may encounter the following problems.
1. This towel is comfortable, but it's too thick. When I work out at the gym, I don't know where to put it. Although the gym looks clean, it's really not safe to keep it in one place, and you can't always walk around with a big bag. I feel very depressed.
2. It's easy to say that there's nowhere to put the towel. If it really doesn't work, then hang it around your neck. But then again, it's actually inconvenient to have such a thick towel in your gym bag because it's so big and takes up so much space.
3. This is probably the most troublesome situation. When I got home from the gym, I forgot my towel because of something. Towels can get nasty in one night, and this cleaning-obsessed little guy immediately hates his towels.
I don't want it now. I don't think it can be washed any more, can it?
So here's the problem… ? What kind of towel do you want? Comfortable? Is it breathable? Or light?
If it were me, I think this towel would at least absorb sweat easily. After all, we need practical, usable towels, not decorations. Although some towels are thick, they do not absorb sweat very well. Even if they are placed in the most perspiring areas, they are poor at absorbing sweat.
Therefore, I personally believe that the ability to absorb sweat should be the first. In addition to absorbing sweat and draining all the water from the towel, I also wanted the towel to be extra thin.
So, how thin is the most appropriate? Honestly, I can't wait to put it in my pants pocket. Well, however, a small towel in my pants pocket might not be pretty. So lower the bar and strap it around my wrist. It's important to note here that I'm not talking about wrist towels. They are too small to wipe off sweat, but not to use in the shower.
Then we will discuss the last issue, namely its breathability and quick drying. No, comfort is important, too.
What material is suitable for a sports towel?
All friends who like sports should watch it
Life lies in movement. You should exercise at any time and in any season, even in the hot summer. Sporty people know that people who run outdoors or at the gym wear a towel around their neck or place it on the armrest. So, which material is suitable for sports towels? How to maintain?
What material is suitable for a sports towel
At present, there are a wide variety of sports towels on the market, including pure cotton, microfiber, bamboo fiber and so on. Compared with ordinary towels, sports towels are not only more absorbent, but also optimized for the material, specification, size, water absorption and other aspects of sports, which is more professional and more suitable for sports enthusiasts.
When it comes to water absorption, fiber sports towels will perform better, while cotton and fiber sports towels are similar when it comes to tactility. However, it is important to note that fiber towels will become dry and hard after use and cleaning for a period of time; This can also happen with cotton towels, but it's much better than fiber towels. The permeability and instant water absorption of the towel will gradually decrease. Accordingly, fiber towel long-term use effect is inferior to cotton towel.
Maintain your workout towel properly
Towels need to be washed and changed frequently. The service life of the towel is generally between 3 months and 6 months, so it is necessary to replace and clean it frequently. Due to the particularity of the use environment, sports towels are easier to absorb sweat and breed microorganisms than ordinary towels, so we should pay more attention to cleaning work at ordinary times. When cleaning sports towels, it is best to use neutral detergent or slightly alkaline detergent soap, with the appropriate concentration of disinfectant for cleaning. If possible, consider a simple bactericidal treatment using hot steam, and then try to dry the towels in the sun.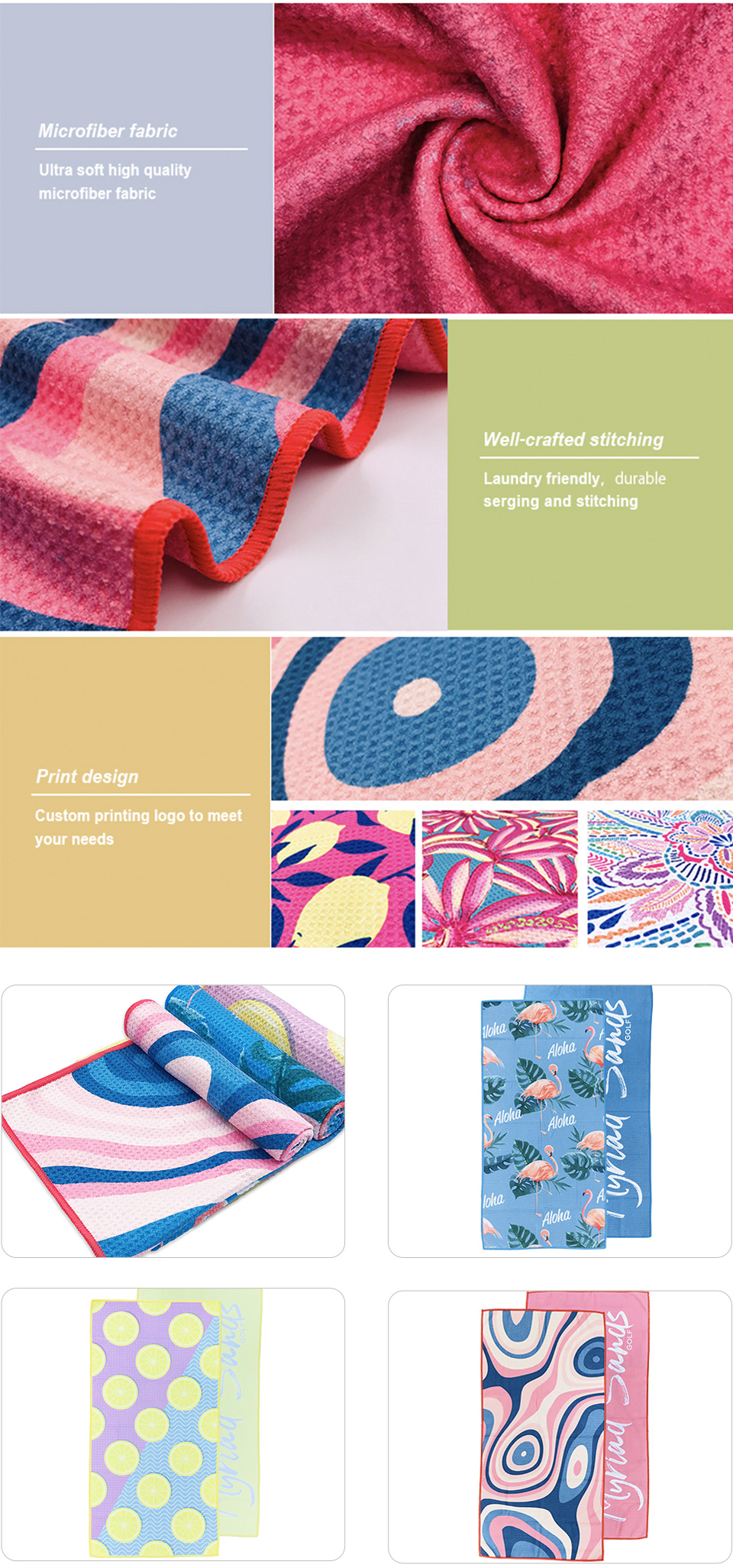 Microfiber fabric
Ultra soft high quality microfiber fabric
Well-crafted stitching
Laundry friendly, durable serging and stitching
Print design
Custom printing logo to meet your needs