Terry material sports towel compared to other ordinary towels, more lightweight and portable, but also very sweat-absorbent, cost-effective
After you train in the gym, do you really want to wipe your sweat with a comfortable towel. However, you may encounter the following problems.
1. The towel is very comfortable, but it is too thick. I don't know where to put it when I exercise in the gym. Although the gym looks very clean, it's really not safe to leave it in one place, and you can't always carry a big bag around. I feel really upset.
2. It's easy to say that there is no place to lay down the towel. If it is really not feasible, it should be hung around your neck. But then again, putting such a thick towel in the gym bag is actually very inconvenient, because it is too large and takes up too much space.
3. This may be the most troublesome situation. After going home from fitness, the towel forgot to be taken out because of some things. The towel will taste bad in just one night, and the little fellow who is obsessed with cleanliness immediately dislikes his towel.
What kind of towel do you want? Comfortable? Or breathable? Or lightweight?
If it's me, I think this towel can at least absorb sweat easily. After all, we need a towel that is practical and easy to use, not a decoration. Although some towels are very thick, the effect of absorbing sweat is not good. Even if you put them in the place where you sweat most, the ability of absorbing sweat is still poor.
Therefore, I personally think the ability to absorb sweat should come first. In addition to sweat absorption, after draining all the water on the towel, I also hope that this towel can become particularly thin.
So, to what extent is thinness the most appropriate? To tell you the truth, I can't wait to put it in my pants pocket. Hmm, however, it may not be beautiful to put a small towel in my pants pocket. So lower the requirement and tie it to my wrist. What should be noted here is that I am not talking about wrist towels. They are too small and can wipe sweat, but they cannot be used in a shower.
Then we will discuss the last question, that is, its air permeability and quick drying. No, it is also important to be comfortable.
How to choose a sports towel?
As the saying goes, it's cool to work out for a while, but it's always cool to work out all the time.
The benefits of exercise go beyond physical, facial, and mental changes. There are many more reasons to spend money:
Treadmill, sneakers, running shoes, yoga mat, exercise backpack… Even a towel.
Some people say, is it necessary to buy towels separately? Isn't it just wiping sweat? Can't you just use a regular towel? If it's too small, can you use a bath towel?
After the experience, you'll know why you have to buy another sports towel.
The breathability of a sports towel is not necessarily determined by its thickness. Fabric structure, fiber properties and other factors will affect air permeability. Those who pursue breathability need not obsess over thickness
An important function of using an exercise towel is to wipe away sweat. When exercising, of course, we want the towel to quickly absorb the sweat so we can continue to focus on the "fight." At this time the absorbent performance of sports towel is particularly important.
Sports towels inevitably deal with water: wiping sweat, washing face, swimming, etc. They are exposed to a variety of water: sweat, tap water, pool water, soapy water… It would also be embarrassing if their towels faded while they were showing off their figures.
This requires that the color fastness of sports towels in different conditions must pass the test, and even reach the best.
The lower the shedding rate, the better. Otherwise, when I use it, there will always be small pieces of hair falling on my body, which can really affect my sweating (pictured)!
Does the nominal 100% cotton towel seem to shed more than the non-cotton towel?
In fact, it doesn't depend on whether the towel is cotton or not. Fiber raw material quality and production technology will affect the hair removal rate of towels.
To sum up, a sports towel is not a towel that can be cheated out of. It should be medium size, moderately heavy, breathable and absorbent.
Of course, it has to look good, otherwise how can I take good pictures and send them to my friends?
Nowadays, many people like to go to the gym to exercise after work. If you exercise, you sweat. If you don't dry off your sweat, the evaporation of sweat will consume your body temperature. Hot and cold irritations tend to cause colds. Exercise is mainly for physical health, not the opposite; It's important to choose an exercise towel to wipe off your sweat!
The first thing to consider is the material of the towel. There are a wide variety of sports towels on the market, such as pure cotton, microfiber, bamboo fiber, wood fiber, etc. Some materials do not meet hygiene requirements and may cause skin irritation and other discomfort.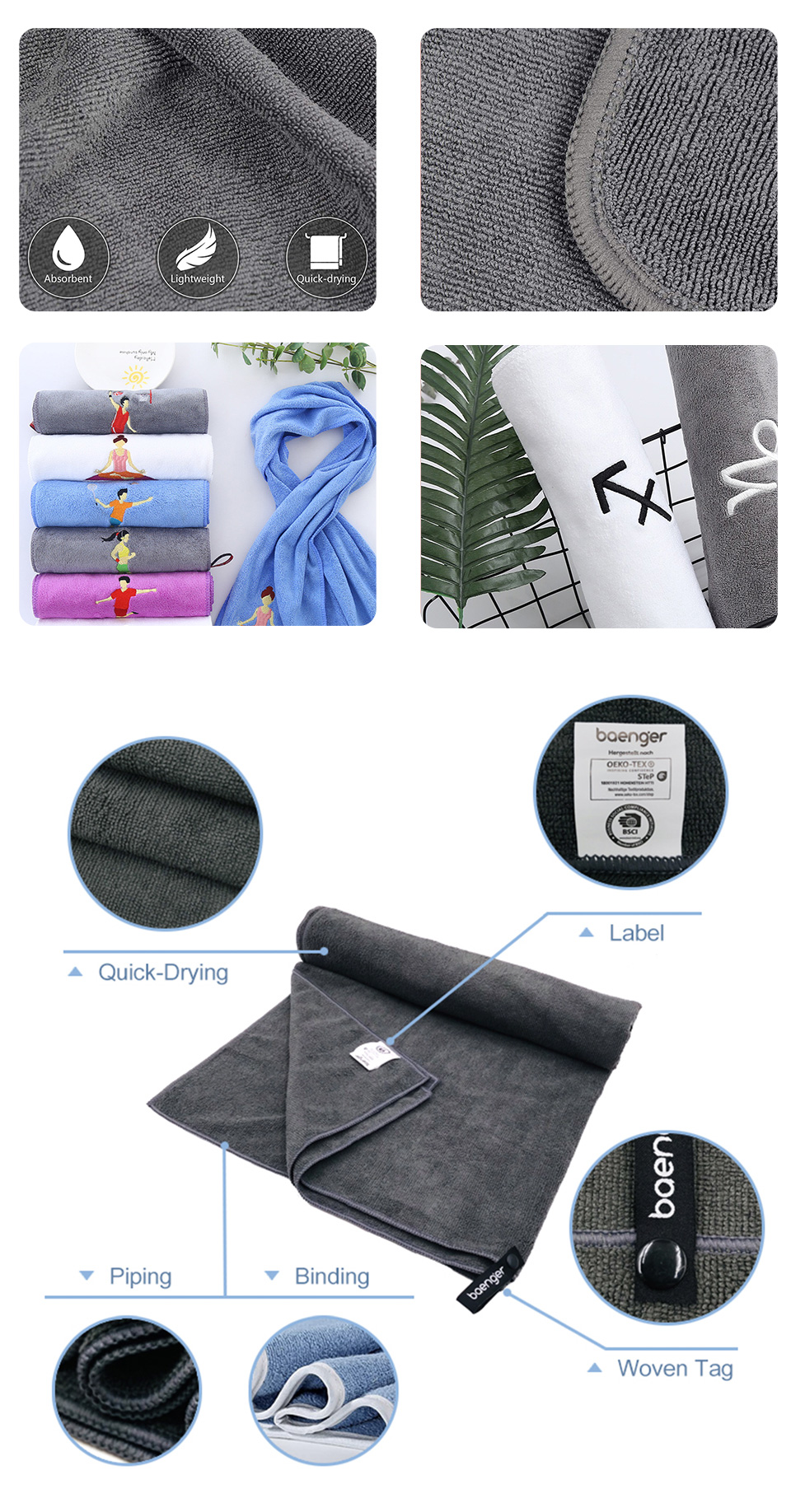 Quick-Drying
Label
Piping
Binding
Woven Tag
The water absorption of sports towel and comfort also are the important standard that chooses
Cotton towel
Advantages: comfortable and soft, strong water absorption, low static electricity
Disadvantages: Cotton is extremely unstable to inorganic acids
Wood fibre towel
Advantages: Oil displacement,
Disadvantages: low water absorption, fragile, not durable.
Microfiber towels
Advantages: strong water absorption and dust absorption, durable.
Cons: Feel and touch is not as good as natural fiber, some people may have discomfort and allergic reactions.
Bamboo fibre towel
Advantages: anti – mildew, anti – odor, no hardening. It feels soft and smooth.
Disadvantages: poor compactness, long service life without cotton.