Suede sports towels are sweat-absorbent, quick-drying and very versatile, suitable for any sports occasions such as gym, mountain biking, running, swimming, etc.
Now more and more people love sports and fitness. Of course, fitness related products are popular in the market, including sports towels. There are too many so-called sports towels in the market, but ordinary consumers can't judge the quality of sports towels, so consumers will inevitably face difficulties when choosing sports towels. How to choose? The following editor will talk about the purchasing skills of towel sports.
First of all, depending on the water absorption of the sports towel, you can spray some water on the hanging towel. If the water absorption is fast, it means that the sports towel has good water absorption. If there are drops of water, it means that the water absorption is not good;
Next, it is necessary to see whether the towel will fade. Use a clean wet paper towel to judge whether the dyeing is firm. Rub the paper towel back and forth on the selected sports towel for a few times to see whether the towel will fade at a glance.
Then the material can be identified by burning method. The cotton yarn is drawn and left with black ash after burning, without condensation, indicating that it is cotton or natural fiber.
Next, the air permeability of the sports towel is very important, so the breathable fiber products are better than the pure cotton products, but the durability of the fiber products is not as good as the cotton towels, so do not believe the rumors of "sterilization" of the fiber products.
Finally, try to choose a brand of sports towel.
What's the difference between a sports towel and the towels we normally use?
The so-called sports towel, refers to the towel specially designed for sports, in the material, specification, size, water absorption and other aspects have been optimized for sports, so as to be different from ordinary products. It is an essential product for aerobic exercise, outdoor adventure and travel. Let's take a look at how to choose the right workout towel.
Exercise towels that meet the following five conditions can be called good exercise towels.
1, clear design, accurate printing, full, novel, full of the sense of The Times: in addition to practical cotton towel wholesale towel, is also a kind of art, lifelike, a painting, a decoration, give a person a kind of spiritual enjoyment. If you put it anywhere in the room it won't ruin the view. It is strictly prohibited to buy fake and supernatural fake goods, so as not to reduce the grade and pollute the room.
2, bright color: whether printed towels or plain towels, as long as the materials are exquisite, the workmanship is in place, it must be very bright and beautiful. At first glance, there is a refreshing feeling. Do not buy old towels, because they are generally simple process, poor material, harmful to health.
3, high water absorption: cotton towels have high requirements for hydrophilicity. Wipe a towel and water to remove dust and dirt. This requires high quality cotton yarn, advanced cooking, printing and dyeing processes, and perfect detection and inspection methods. Wool towels that are slippery, non-absorbent, and non-soiling on your face can affect your quality of life.
4, novel style, fine production: cotton towel can be spiral, velvet cutting, plain color, printing and other styles, can also add satin edge, satin edge, embroidery, applique, row, Mosaic and other technological means. The towels are usually made of fine materials and of high quality. Aside from delicate sewing edges, horizontal and vertical lines, and appropriate trademark sewing, the towel looks elegant without any problems. People couldn't put it down. They should never buy towels that are poorly made, have no label or exact origin.
5, fluffy texture, soft feel, feel comfortable. It feels springy in my hand and feels like spring breeze blowing on my face. It gives people a lingering emotion. Cotton towels should not be too dry or too hard to damage the skin.
How to maintain a sports towel
When exercising, bring a sports towel and wipe sweat to keep warm. However, many people neglect exercise towel care. Towels are prone to bacteria. It's also important to take good care of your sports towels.
Get a special exercise towel, preferably a larger one. Wipe off sweat frequently to prevent it from running off your hands, shoes, or the floor and making your feet slip. In addition, athletes sometimes like to wrap themselves in a large towel after exercise. In addition to wiping off sweat, another important function is to keep warm and prevent the discomfort caused by blowing after the exercise stops. This needs special attention in air-conditioned stadiums.
When washing cotton sports towels, avoid overheating and prolonged drying. When drying, roller drying in a machine can give cotton sports towels more volume and softness than hanging to dry can. It is best not to be exposed to the sun or forced to dry with ultra-high heat sources.
Do not frequently use fabric softener, otherwise can affect the water absorption of sports towel. Wash dark and light towels separately. Avoid washing towels with zippers, hooks, or buttons to avoid damaging the rims of sports towels. Don't wash sports towels with your clothes. Terry cloth will wrap the clothes in a thin, soft fabric.
Washing times affect the use time of exercise towels. The less times you wash, the longer your workout towel will last.
Wet exercise towels should not be left to dry for too long or too long, which can breed bacteria such as mold. When moldy sports towels dry, the fibers quickly become brittle and crack.
After a period of use, the free calcium and magnesium ions in the water combine with the soap to produce calcium and magnesium soap and adhere to the surface of the sports towel, so that the sports towel becomes hard. There are also some tips for softening a sports towel. Add 20g of soda ash or appropriate softener to about 3kg of water, boil for 10 minutes, then rinse several times with warm and cold water.
Some people love oil, sports towels often greasy, slippery, wash many times the effect is not very good, very annoying. It is recommended to soak the towel in strong salt water and wash it with water to make it fresh.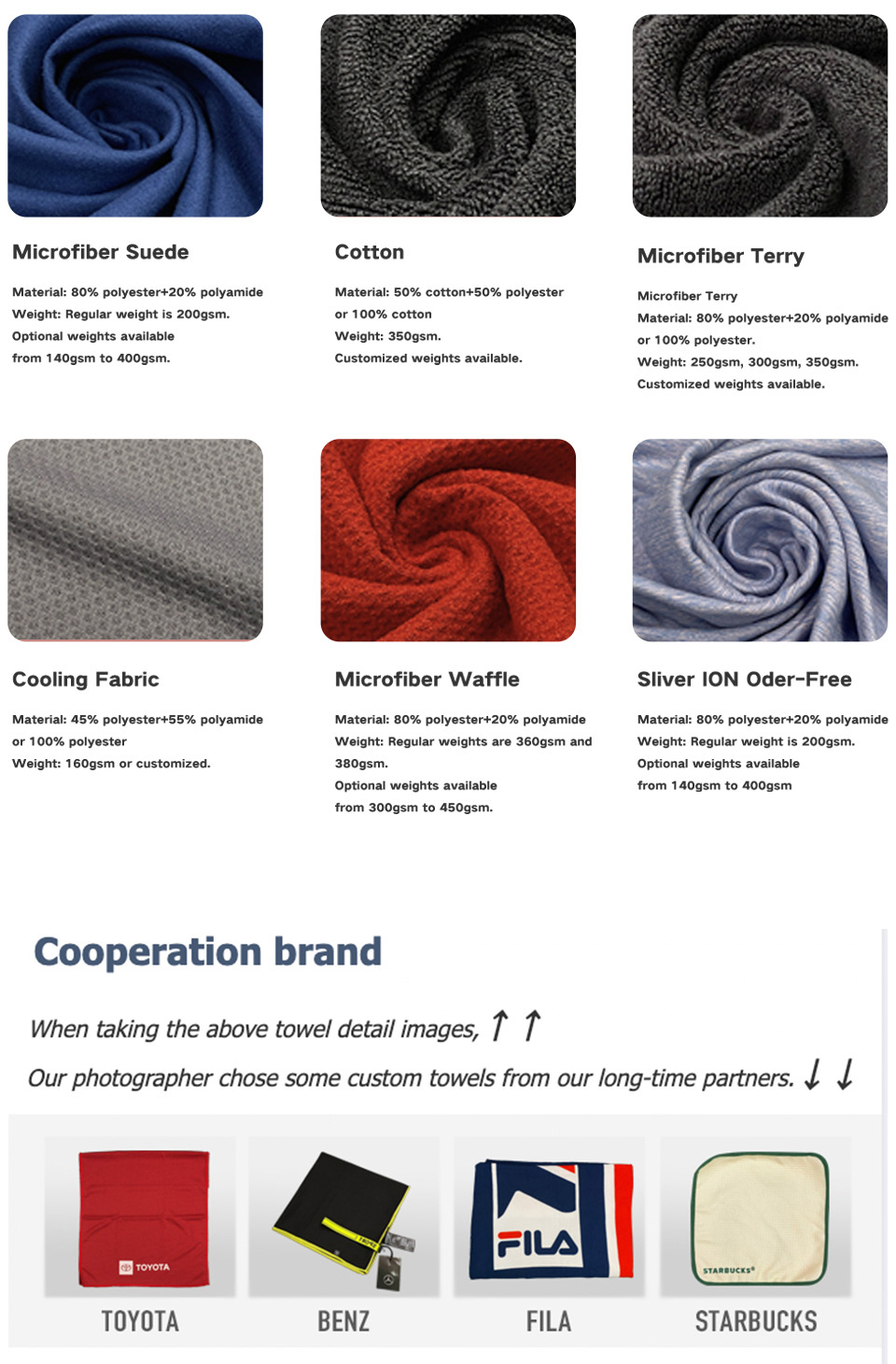 Microfiber Suede
Material: 80% polyester+20% polyamide
Weight: Regular weight is 200gsm.
Optional weights available from 140gsm to 400gsm.
Cotton
Material: 50% cotton+50% polyester or 100% cotton
Weight: 350gsm.
Customized weights available.
Microfiber Terry
Material: 80% polyester+20% polyamide or 100% polyester.
Weight: 250gsm, 300gsm, 350gsm.
Customized weights available.
Cooling Fabric
Material: 45% polyester+55% polyamide or 100% polyester
Weight: 160gsm or customized.
Microfiber Waffle
Material: 80% polyester+20% polyamide
Weight: Regular weights are 360gsm and
380gsm.
Optional weights available from 300gsm to 450gsm.
Sliver ION Oder-Free
Material: 80% polyester+20% polyamide
Weight: Regular weight is 200gsm.
Optional weights available from 140gsm to 400gsm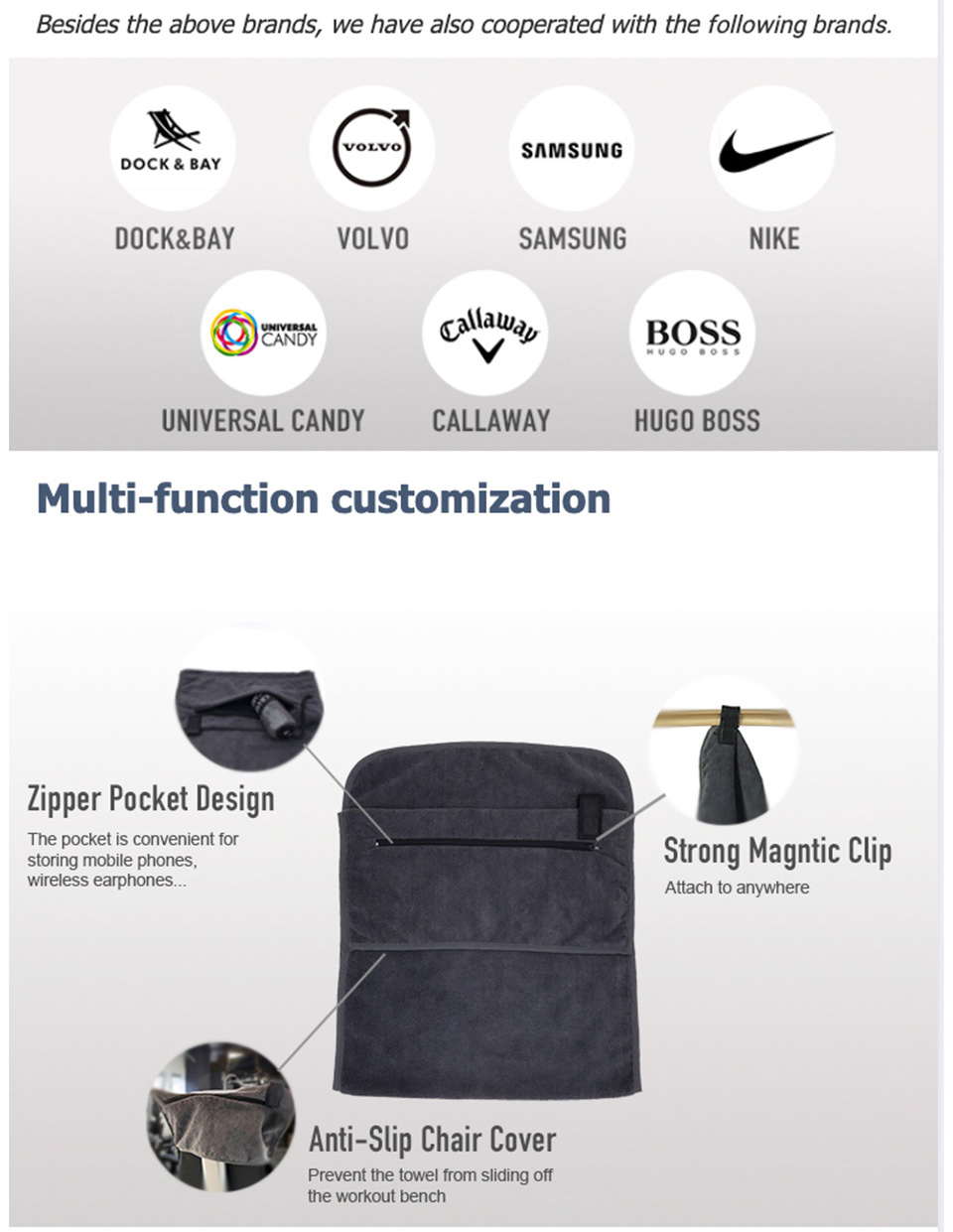 Cooperation brand
When taking the above towel detail images,
Our photographer chose some custom towels from our long-time partners.
Besides the above brands, we have also cooperated with the following brands.
Multi-function customization
Zipper Pocket Design
The pocket is convenient for storing mobile phones, wireless earphones…
Strong Magntic Clip
Attach to anywhere
Anti-Slip Chair Cover
Prevent the towel from sliding off the workout bench