Round beach towel towels are more unique than the regular style, beach towels can sit on many people at the same time, enjoy the beach enjoy the sunshine it~
What kinds of beach towels are there
Beach towels are generally used on outdoor beaches and beaches. The types of beach towels can be divided into:
1. By process
(1) Jacquard beach towel: The beach towel made by jacquard technology is generally thick and strong in water absorption, but the number of colors is relatively small and the pattern is simple.
(2) Printed beach towel: It is made by reactive printing and dyeing process. The fabric is bright in color, good in color fastness, soft in feel, and durable in washing and fading.
2. By material
(1) Silk beach towel: It is made of natural fiber mulberry silk. It is cool, breathable and highly hygroscopic. However, silk beach towel can only be washed by hand, and it is easy to color after washing. It cannot be exposed to the sun. It also has some shortcomings, such as poor firmness, easy stretching, and easy to break the seams.
(2) Polyester beach towel: The silk like beach towel made of red colored polyester is light, soft, natural and close to the skin. Although the comfort of pure fiber is not as good as that of silk beach towel, it is much more convenient to take care of.
Should I wash the beach towel after I use it
All you need.
Beach towel is a personal product, pay attention to clean. First of all, the beach towel of different people must be separated, not mixed together, because the beach towel is in direct contact with the skin, everyone's skin is different. Mixed use may cause cross bacterial infection, unsanitary; Secondly, the beach towel must be washed after each use, because the beach environment is dirty. While a beach towel is relatively dirt-resistant, it will inevitably get dirty. Especially when the beach towel is laid on the ground, it can also get sand. Therefore, it should be cleaned immediately after cleaning and dried in time.
How to wash a beach towel with sticky sand
After using the beach towel on the beach, because the sand on the beach is wet, it can easily get on the beach towel in the sun and is not easy to clean. How do you wash the beach towel?
1. Rinse the detergent with warm water, soak it in a beach towel for 15 minutes, and rub it in with your hands. Apply extra washing powder to areas with sand and rub vigorously to remove sand and stains.
2. Soak in brine for half an hour, then put in clean water and add neutral detergent for cleaning.
3. First, soak the beach towel in hot water for 20 seconds, then quickly remove it, soak it in ice water for 10 seconds, remove the lime to dry, then pat the sand with your hands.
4. Soak a beach towel in clean water with a little salt and vinegar. Don't put in detergent. Use both hands to pull the beach towel directly at both ends, pulling it to a certain length, but don't overdo it. Shake a beach towel in clean water a few times and the sand will shake off automatically.
The cleanliness of the beach towel is very important. After all, lie on it and touch it directly. Be sure to dry in time after cleaning, otherwise there will be odor.
A complete collection of summer beach towels
The beach towel can be worn on the body. Although it's just a bath towel, it has a stylish pattern on it and is large enough to be worn as a shawl or sunscreen. There are many ways to tie a beach towel, such as:
1. A beach towel can be used directly as a coat or shawl. Simply place it on your body or shoulder. This is a common way to wear it.
2 Put the beach towel together from front to back or back to front and tie it to use as a dress. Usually a single layer tie. If the beach towel is large, you can also double it.
3. Unfold the beach towel behind your back, then tie the two corners of the longest side of the beach towel through your armpits and tie a knot in front of your chest, then wrap the two ears of the knot around your back. The result is a sloping shoulder dress, which is cool and beautiful.
4. Hang the beach towel around your neck, hold both ends in your hands, and tie it around your back. Then tie the rest of the belt around the front and tidy up.
5. First, wrap a beach towel behind your back, hold it by both ends, tie it in a slipknot, and hang it around your neck.
6. Wrap the beach towel in front of your chest and button it. Find the two belts already tied and tie them in front of your chest. You can also wrap the buttons around the back of your neck to make a slung-neck dress.
How to tie a beach towel
The size of the beach towel is generally large, suitable for clothing. The beach towel on the market is rich in color, pattern, style and decoration effect is quite good. To make a beach towel look good, there are two things to look for:
1. Choose the right pattern and color. Beach towels come in many patterns and colors. Different shapes of beach towel can show different decorative effects.
2. In the process of tying, choose the right direction and landscape pattern to be displayed, so that the decorative effect of the beach towel will be better.
There is more than one way to tie a beach towel. The same beach towel can also be paired with different styles by using different styles. If you are too lazy to tie it, you can wear it directly on your shoulder for a good decorative effect. Or you can buy a beach towel with a geometric pattern and tie it as you like, because any geometric pattern system can create different patterns for more casual use.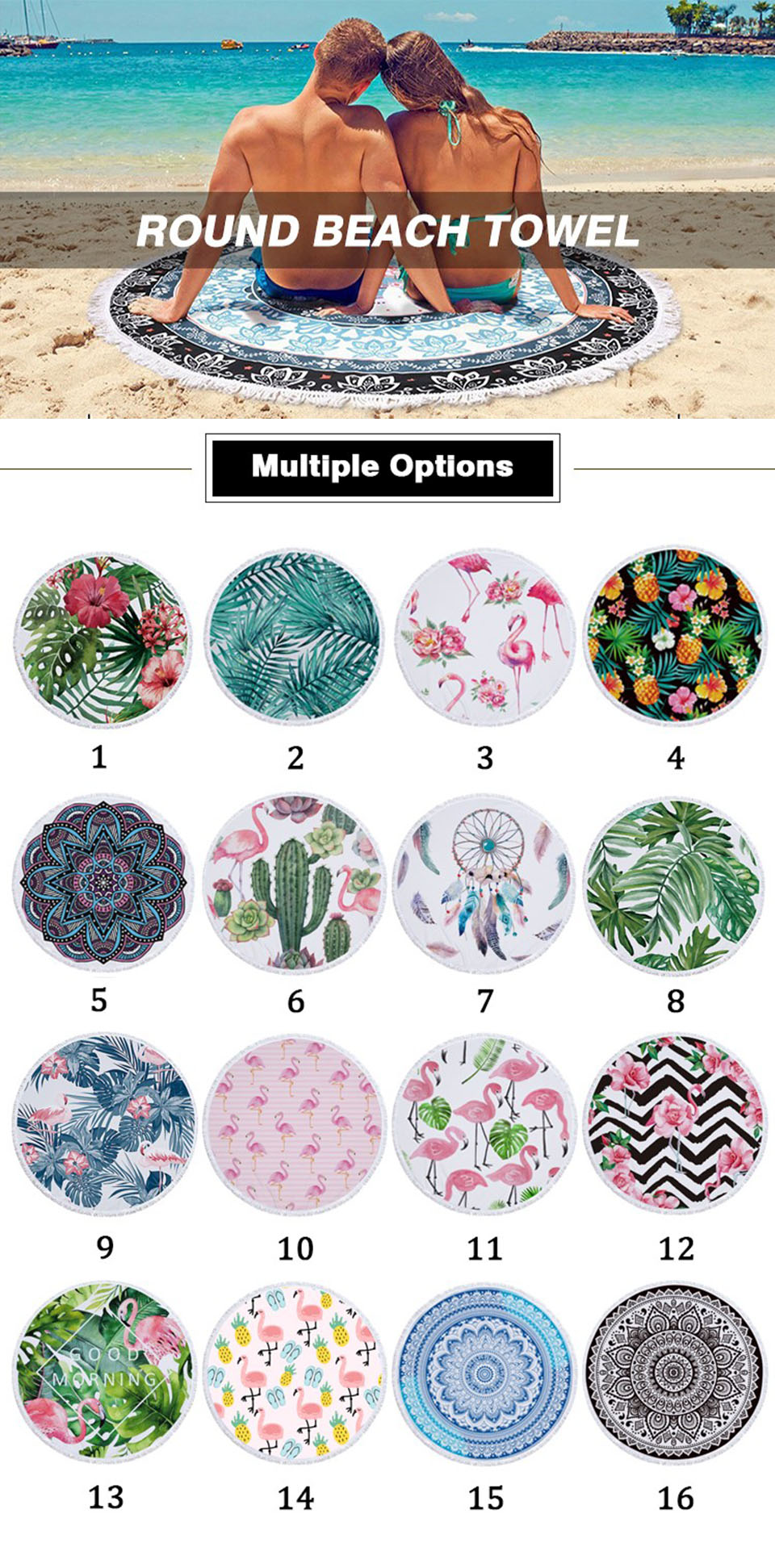 What is a microfiber beach towel
Microfiber beach towel refers to the beach towel made of polyester nylon composite silk and three-wire suture process. Using high quality microfiber fabric, soft texture, excellent hand feeling, with antibacterial, moisture absorption, sweat and other functions. Microfiber beach towel is widely used, commonly used in bathing, outing, beach vacation, opening ceremony gifts and other fields. As a kind of environment-friendly fabric, microfiber is an excellent substitute for pure cotton products, which is widely used in the production of various cleaning supplies and fashion sports supplies.
What are the advantages of microfiber beach towels
There are many types of beach towels and they are usually pure cotton. However, microfiber beach towels are also available on the market. The advantages of this microfiber beach towel are:
1. Good water absorption
Most beach towels are for the beach. People who have just come out of the sea have a lot of water. Microfiber beach towels quickly absorb water from your body.
2. Feel comfortable
Beach towels made from microfibers are comfortable to the touch. It is very comfortable to wrap around your body or use it to dry water droplets on your body.
3. The dust
Beaches aren't as clean as homes, so beach towels are often dirty when used, and microfiber products are good for stain resistance, so they're better for outdoor towels.
4. Long service life
Microfiber beach towels also last longer than regular ones